What is Rhinoplasty? 
Rhinoplasty is to adjust or fix a nose shape to fits a face shape with the use of surgical procedures which offer a number of techniques such as the use of a nose implant, an ear cartilage, Alarplasty and nose reduction.

Why Nose Surgery at Nida Esth'
The expertise of a surgeon – Dr. Piya Rungruxsiri – who has a special technique of Rhinoplasty and more-than-19-year experience in surgical field. 
Nurse teams who have experiences in taking care patients and hospitalization both local and international
We use nose implants imported from USA
We provide VECTRA 3D which can simulates a 3 dimensional photographs of an expecting result of procedures
When to do Rhinoplasty? 
To adjust a nose shape to fits the face shape the most
To boost u confidence 
To fix problems from previous nose surgery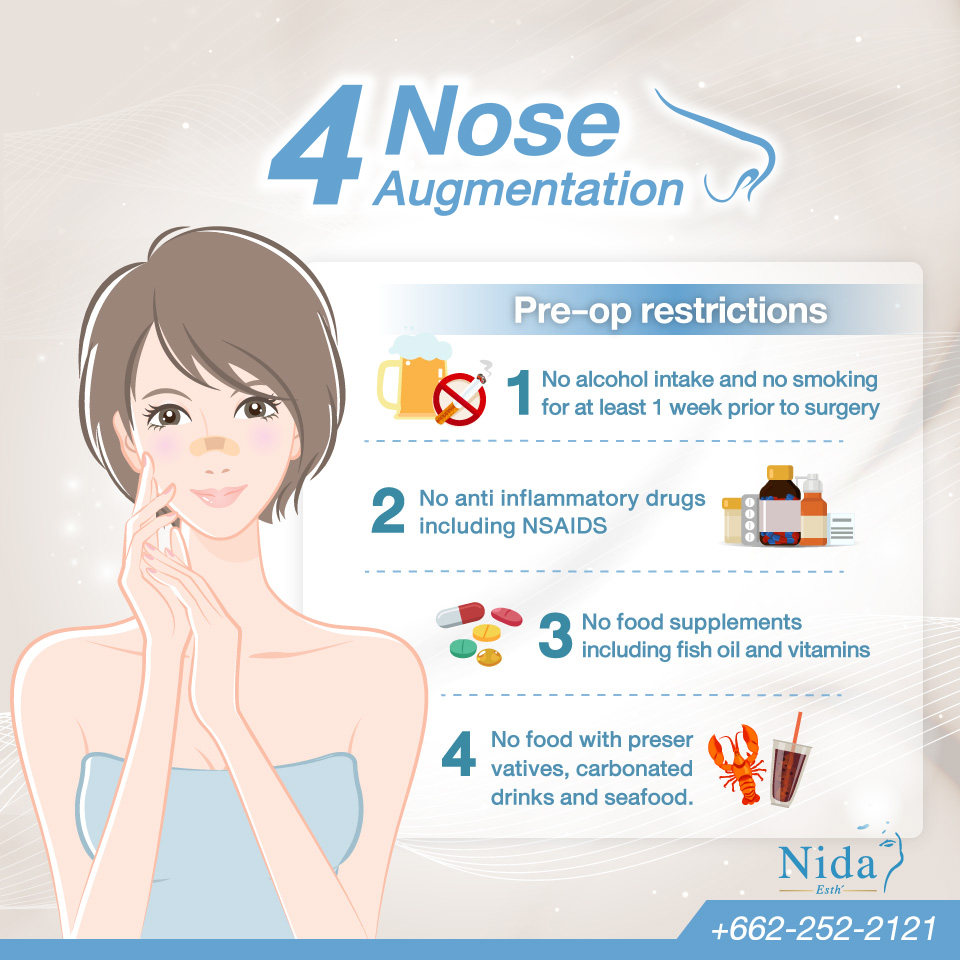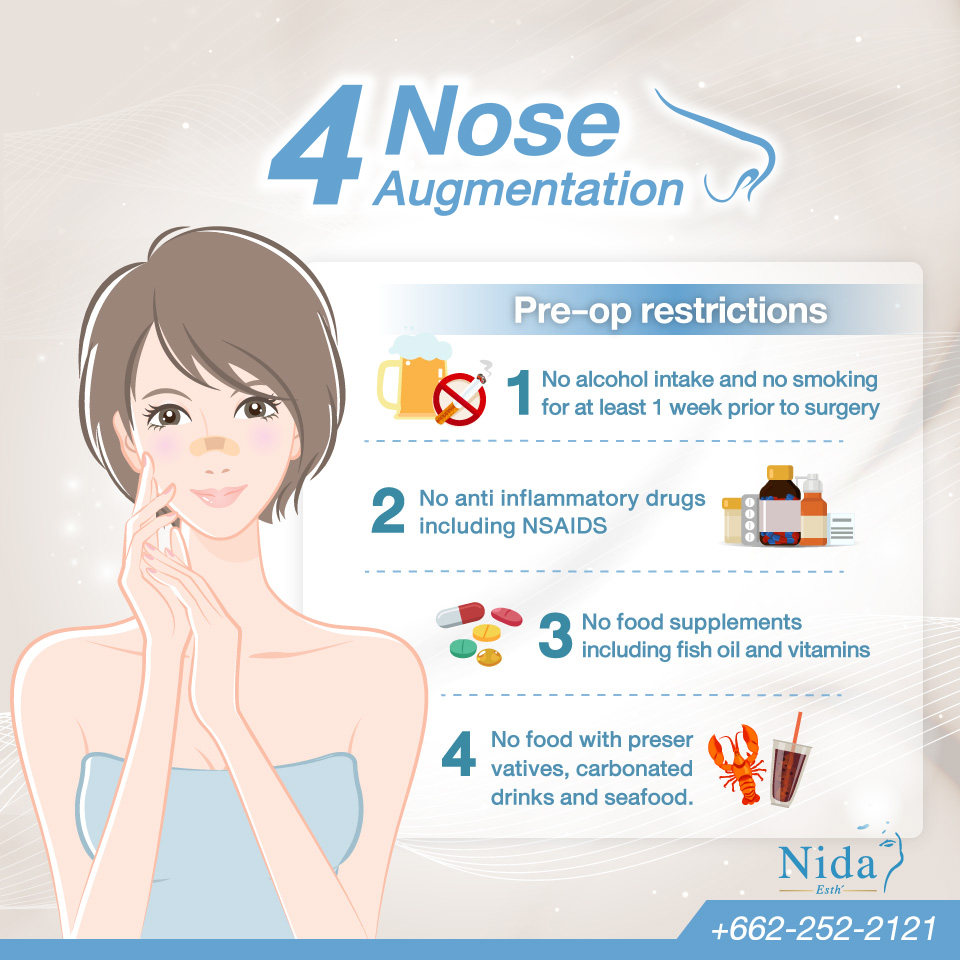 Who should do Nose Surgery? 
Patients who have sufficient nasal tissues for a nose implant 
No risk of complications after a nose surgery
Patients who have a fixable hump size 
No allergy for anesthesia both local and general 
No underlying diseases such as high blood pressure, diabetes, heart disease or HIVs since they can cause complications after a nose surgery
Preparations before Rhinoplasty
Consult with a surgeon about expectations and risks 
Select appropriate techniques of Rhinoplasty
Study differences of nose implants 
Stop drinking alcoholic drinks and smoking before Rhinoplasty 
Stop taking medication and some vitamins before Rhinoplasty 
No fermented foods due to risks of infections 
Types of Nose Implants
Common Nose Implants 
Customized Nose Implants 
Instructions on a Surgery Date
No food within 8 hours if general anesthesia is involved 
Have light foods before Rhinoplasty at least 4-6 hours if general anesthesia is not involved
No makeup and cleanse your face and nose before Rhinoplasty 
Rest and don't be worried because it can cause high blood pressure which can affects the surgery
Rhinoplasty Processes 
Two techniques of nose surgery are "Open" and "Close", depending on a surgeon
Give local or general anesthesia before a surgery
Correct a nose shape and insert an implant 
Stitch up and check a result 
Incision sites of Rhinoplasty
1. Wounds will be hidden in nose holes. Mostly, there is no visible wound or scar. A surgeon will use catgut suture which will be gone in 3 weeks.   
2. Wounds outside of a nose
In case that there is a use of ear cartilages to correct a nose shape can be done in both open and close Rhinoplasty
In case that there is filler injection and fascia in a nose
In case that there is a deformed bone structure from a number of nose surgeries 
In case that patients need to fix a nasal base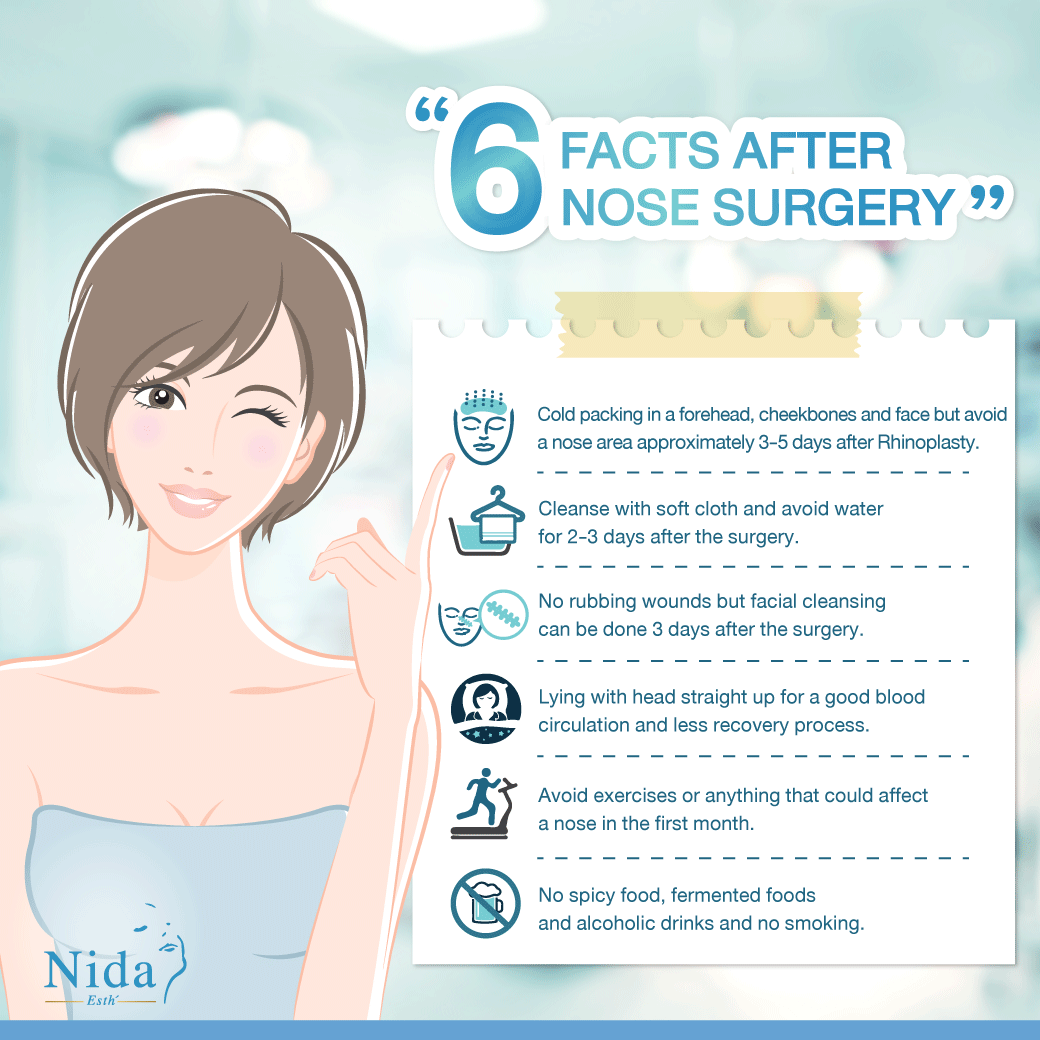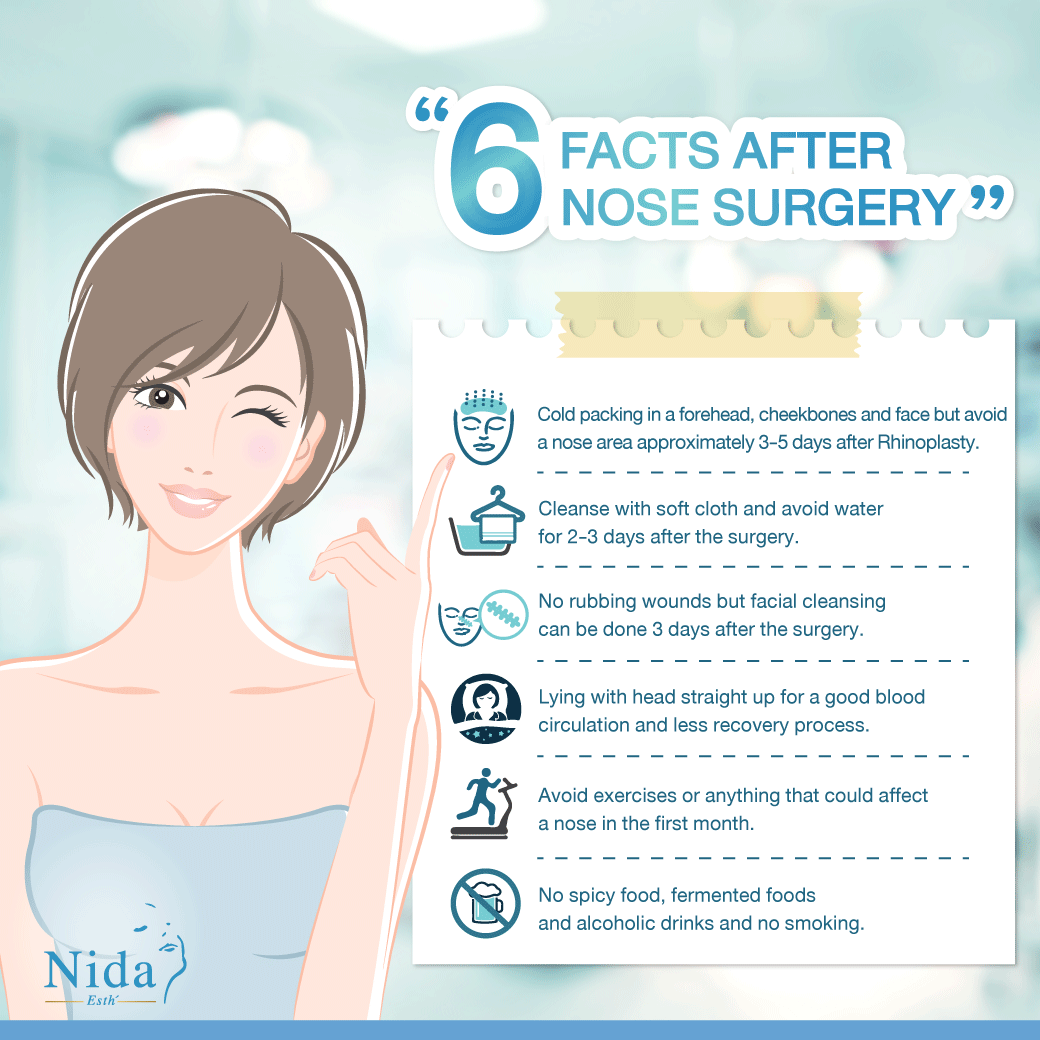 Post-operation Care Instructions
Cold packing in a forehead, cheekbones and face but avoid a nose area approximately 3-5 days after Rhinoplasty  
There might be swollen but it will eventually be gone day by day
Wounds would look good after the second month of Rhinoplasty 
Cleanse  with soft cloth and avoid water for 2-3 days after the surgery
No rubbing wounds but facial cleansing can be done 3 days after the surgery 
Lying with head straight up for a good blood circulation and less recovery process 
Avoid exercises or anything that could affect a nose in the first month 
No spicy food, fermented foods and alcoholic drinks and no smoking due to longer recovery process and high chance of infections