Breast augmentation with implants has been popularized among people in Thailand and other countrues since it is a procedure that safely increases the size of breasts. Moreover, it is accepted by surgeons from all over the world to utilize breast implants over saline implants and filler injection. Yet, breast augmentation with breast implants is recently the most popular method for breast augmentation.
Why Breast Implants at Nida Esth'
The expertise of a surgeon – Dr. Piya Rungruxsiri – who has a special technique of breast augmentation and more-than-19-year experience in surgical field. 
Anesthesiologists and nurse teams who have experiences in taking care patients and hospitalization both local and international 
We provide VECTRA 3D which can simulates a 3 dimensional photographs of an expecting result of procedures
Standardized and certified implants from USA, individually selected for each patients with serial numbers for guarantee.
After breast implant, patients will be receiving professional care from nurses who demonstrates how do breast massage and post-operation care for a faster healing process
Facts for Pre-Breast Surgery
Breast Structure 
Breast structure contains different kinds of tissues; each of them lies on breast muscles which act as breast supporters.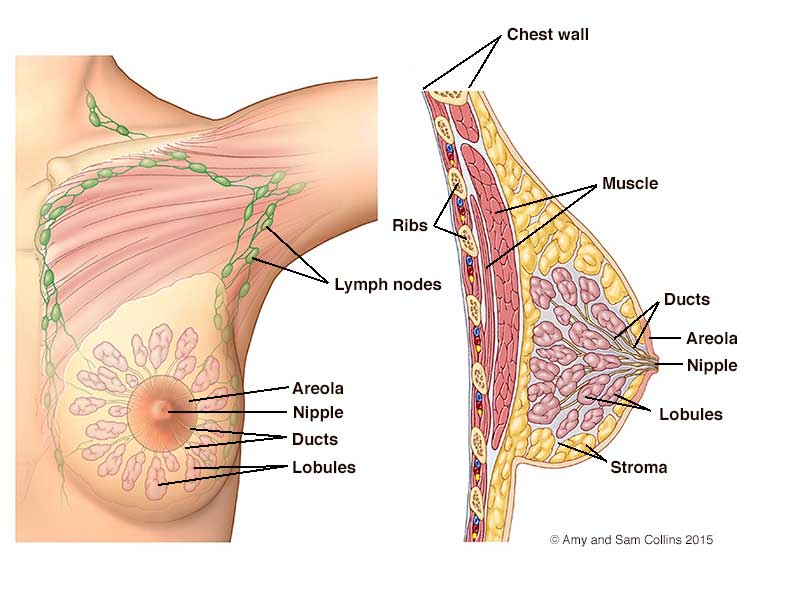 Analysis before Breast Implant Procedure
    To achieve the best possible results from breast enlargement by implants, it is important for patient to reveal all information needed for a complete analysis. This will help our Doctors to understand exactly the look a patient may be after and help us to deliver the most satisfying results.
Examples of Medical Information Needed 
Why would you like to undergo breast implants procedure?
What is your desired breasts look?
Are you satisfied with your breasts?
How often do you exercise and eat healthy food?
Do you have plans to diet?
Do you, or family members have a history of breast diseases?
Do you plan to have children? 
Selection of Appropriate Breast Size  
    A surgeon always evaluates patients' breasts before breast surgery, considering tissue thickness, breast width, a space between nipples and inframammary creases to see the elasticity of breasts and skin. Once deliberated, we can indicate which implant size suits the best. 
Incision Sites for Breast Implant
Breast  Implants usually can be done in 3 incision sites which are under armpits (Transaxillary Incision), under the breasts (Inframammary incision) and under the areola (Periareolar incision). 
Transaxillary incision: this incision site can be rarely covered but it is the best choice for women who do not like to have scars around their breasts.
Inframammary incision is the most popular incision site of all since scars can be completely covered by breasts themselves. 
Periareolar incision is the incision that scars can be fully covered.
Before the operation, a surgeon will explain in detail of each incision sites for mutual understandings and for what best for each patient. 
Implant Placement for Breast Enlargement
    After an assessment of patients' body figure and breast, our surgeon would then choose the best incision site to place breast implants and also inform pros and cons. For breast enlargement, implants can mainly be placed in 3 positions. 
Under mammary glands (breast implants placed under breast tissues but above breast muscles) Breast implants under mammary glands helps reduces time of operation and healing process. Some disadvantages may occur; implants' ripple under skin may become visible and seen with bare eyes. Moreover, diagnostic radiography can be more difficult to perform. 
Under muscles (breast implants placed under both breast tissues and breast muscles) Breast implants under muscles helps enhance feelings and sensations. And, it also helps reduce a chance of fascia in implants. Diagnostic radiography is much easier but disadvantages include more time of operation and longer recovery period.
Dual Plane is a combination of breast augmentation with breast implants and botox injection. Upper part of breast implants are placed under breast muscles but lower part of breast implants are placed above breast muscles. Botox injection is to relieve pain and reduce muscle action during the procedure. Than can make a breast gap less wider.
Types of Breast Implants 
​​​​​​​
| | |
| --- | --- |
| |        |
|     Teardrop-shaped breast implants | Round-shaped breast implants |
Breast implants primarily have 2 shapes which are "teardrop and round shape" 
Teardrop-shaped breast implants are suitable for
Women who do not want breast mounds 
Women who have unsymmetrical breasts
Women who'd like to adjust the difference between height and width of breasts 
Protruding breasts
Women with small or short tissues of lower breasts  
Round-shaped breast implants are suitable for
Women who'd like to have equally full at both top and bottom of breasts 
Women with symmetrical breast or slightly unsymmetrical 
Women who'd like to fix tissues of upper breast tissues 
Women with slightly saggy breasts 
Teardrop-shaped breast implants VS Round-shaped breast implants
Types and shapes of breast implants for breast enlargement are quite complicated and detailed because it depends on physical appearance of individuals including a body, breasts, patient's desires, capability, professional and techniques of a surgeon. 
"From my personal experience, I, as a doctor, think that round breast implants are the best choice for breast augmentation. Teardrop breast implants can be used in some cases, especially women who have problems in some particular parts. It is usually not used in common cases." - Dr. Piya Rungruxsiri
To choose the shape and size of breast implants is very important; it is the second significant factor from the operation. As a result, we should make sure that the chosen breast implants are right and suitable for us. If there is any questions, kindly consult with a surgeon for your decision about choosing the most appropriate implants. 
Facts about pre-breast enlargement
Operation
General Anesthesia 
General Anesthesia is used to make patients fall asleep and allow a surgeon to work more easily during an operation which is always in the hands of anesthesiologists.  
Operation
A surgeon incises a wound to insert breast implants and then stitch it
The use of special garments could be necessary
In some cases, a surgeon may use a drain tube to lessen bruises and swollen which can be removed a day after the operation 
Recovery Process
Visible result after breast enlargement
Bruises after the surgery would lessen and wounds which would be fade accordingly
In the first 24-48 hours, the recovery process depends on individuals
Reduce physical activities 2-3 days after breast enlargement
A surgeon will recommend appropriate exercises or other activities to patients
Pain and swollen may occur within 2-3 weeks after breast enlargement
A surgeon will give advices of post-operation instruction 
A special garment will be given after breast enlargement which is designed to support the enlargement of Breast
If there is any problems after breast enlargement, immediately contact a surgeon
FAQ of Breast Enlargement by Implants
What is an implant?
Breast implants are made from Polymer, composed of silicon, carbon, hydrogen and oxygen. The substances are in a form of gel or rubber found in domestic tools such as polishing agents, tanned lotion, hand cream, deodorant, soap, delicatessen, super hydrophobic coating products, gums and medical tools. 
Are Breast Implants Safe?
Breast implants are medical equipment used in a body such as mechanical valves, knee joints and cervical. Body systems can either much, less, or not at all react to the implants. Moreover, there is no conclusion or evidence which proves that breast implants are danger to a human body. Besides, in reality, breast implants are very common in our daily life
Facts about post-breast enlargement 
What is a capsular contracture? 
Whenever there is something embedded in our body, fascia – a type of scars that covers the embedded substances – will form itself. As well as the implants, fascia will be covering them. Once a body system creates too much fascia and there is too much shrinkage, there will be a capsular contracture which can happen in approximately 4-10% after breast enlargement. 
A capsular contracture sometimes shows no conditions and sometimes pain and unsymmetrical breasts. If the problems look severe, a breast re-augmentation may be needed by remove the old breast implants and insert the new ones. However, a chance of complications tends to be able to reoccur. 
Why our body create fascia to cover the substances?
It is a natural process of our body to react with foreign substances put in our body. Scar tissues will be created to cover a surface of implants.
Does breast enlargement lead to breast cancer?
From researches, there is no scientific proves which show that breast enlargement leads to breast cancer, even when compared with women with no record of breast enlargement. For more information, please go the web site www.fda.gov/breastimplants Silicone Gel-Filled Breast Implants: Updated Safety Information 
How does breast enlargement affect mammography?
Breast enlargement can lead to difficulty in mammography. Radiotherapists may need to use a special technique to detect breast cancers. Patients must inform radiotherapists or staffs that they previously have undergone breast enlargement. Besides, patients should also inform if there is any medical history about cancer runs in a family. 
Is it possible that we would be allergic to implants?
A chance of implant allergy is very slight because everyone makes contact with material which is a form of gel or rubber found in domestic tools such as polishing agents, tanned lotion, hand cream, deodorant, soap, delicatessen, super hydrophobic coating products, gums and medical tools. So, the chance of allergy is very few.
What is the lifetime of a breast implant?
Normally, breast implants are long-lasting however due to different circumstances may need to be replaced. The reasons for replacing the implants are different from individual to individual. Sometimes, it is optional; for example, patients would like to change the size of breast implants or techniques. Sometimes, there are complications such as infections, severe capsular contracture or leaking implants. In conclusion, there is no recommendation that patient should change breast implants but only for complications.
How long does it take to do exercises and activities after breast enlargement?
A period of recovery process is individually different. A surgeon will be the one who analyzes and gives the best advice for breast enlargement. Commonly, the first 2-3 days are the most difficult; the average time to go back for normal activities is 4-6 weeks. In the first 7 days, patients should avoid water and should not do any activity that uses much energy, especially the upper part of a body. Resting is highly recommended. In case that patients need to reduce swollen around the breasts, Jacuzzi baths are allowed at least 1 month afterward. The sizes of breast implants can make patients gain more weight so patients should wear bras that support breasts and reduce sagginess of breasts. However, in the first 2 months, no bras are recommended because it can create unsatisfying appearances. 
Are sunbathing and skin tanning allowed after breast enlargement?
Skin tanning and sunbathing do not directly affect breast implants but it can darken the scars. It is good to avoid sunlight or radioactivity from skin tanning to make contact with scars for a year after breast enlargement because the radioactivity from skin tanning can create permanent darker scars. After sunbathing, breast implants can get hotter and might take time to cool down. 
How long does it take to get on a plane or dive?
A number of patients are wondering with this problem. Pressure that changes can slightly enlarge or shrink breast implants which can create bubbles in implants. Sometimes, patients can hear fluid sound which will eventually be gone 24-48 hours.
When are underwired bras allowed?
Most surgeons would hold patient for 2 months to wear underwired bras since a body system would create scar tissues around implants. In the first period of 2 months, pressure from underwired bras can create unsatisfying marks around breasts. So, avoiding underwired bras is highly recommended. 
Can breast move normally?
This fact depends on many factors such as a type of implants, surgery techniques, ways that patients support their breasts and capsular contracture. Women with breast enlargement can have soft breasts and move beautifully while some with tighten breasts, they might not move naturally. 
How much does breast implants weight?
The weight of breast implants is different in terms of size and capacity. A 250 cc implant can weight approximately 250 gram. 
Does breast enlargement create stretch marks on breast skin?
Breast enlargement can cause stretch marks but not so easily. So, choosing the right size breast implants is the best thing to avoid stretch marks.
How do cigarettes affect the recovery process after breast enlargement?
Smoking can cause the coronary artery disease which decreases an amount of blood and oxygen around the area which are significant to the healing process. Once the amount of oxygen is decreased, the healing process gets slower. A surgeon always specifies a period of time that patients should not smoke both before and after breast enlargement which can be 1 to 5 weeks, depending on individuals. Please consult with a surgeon to be informed every detail about smoking. 
Do we lose nipple sensation?
There might be changes in nipple sensation after breast enlargement. The sensation can be increased or decreased. The changes can be from numbness to sensitivity. However, the changes are temporary but can be permanent depending on each individual. 
Should patients control their diets before breast enlargement?
A healthy and proper diet is really important before breast enlargement because, after breast enlargement, if weight decreases, the size of breasts can be smaller and saggier. On the other hand, it the weight increased after breast enlargement, breast sizes can be bigger. 
Breast enlargement with over-50-year-old patients
For patients with more than 50 years old, breast enlargement is possible but they are required to have a good health condition for surgery and anesthesia.
Breast enlargement during pregnancy 
Naturally, breast size increases once we get pregnant, depending on each individual and the size of implants.
Breast enlargement and breastfeeding
A lot of women who previously have undergone breast enlargement can breastfeed. A study shows that women with breast enlargement both gel and saline. Breastfeeding can be done normally because if does not affect an amount of breast milk.
But, it can cause inflammatory in nipples and breasts which can lead to fascia around implants. If this happens, immediately see a surgeon.
Prohibition for Breast enlargement
Do not perform breast enlargement in these following patients 
Pregnant or breastfeeding mother
Lupus such as SLE and DLE
Scleroderma such as Progressive systemic sclerosis)
Slow healing (except those who have been operated breast enlargement after breast cancer treatment)
Having infective area or abscess 
Breast skin which is not suitable for breast surgery (destroyed from ray or blood deficiency)
Being diagnosed that undergoing a surgery can lead to risks 
Physical abnormality causing side effects after breast surgery
Used to be allergic to strange materials or failed in breast surgery 
Do not consent to undergo breast enlargement
High expectation, inspiration, aptitude or lack of comprehension about risks from breast enlargement
Premalignant (Subcutaneous Mastectomy)
Breast cancer without any treatment or breast removal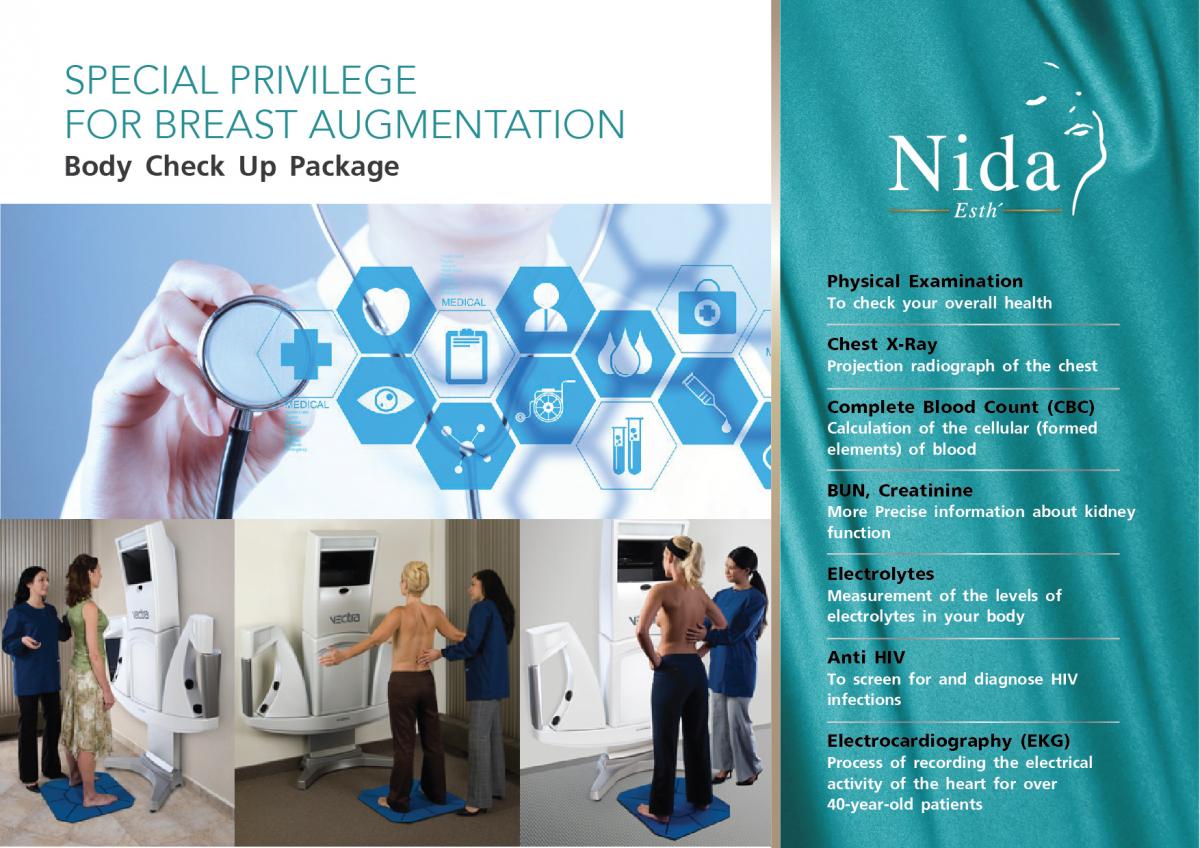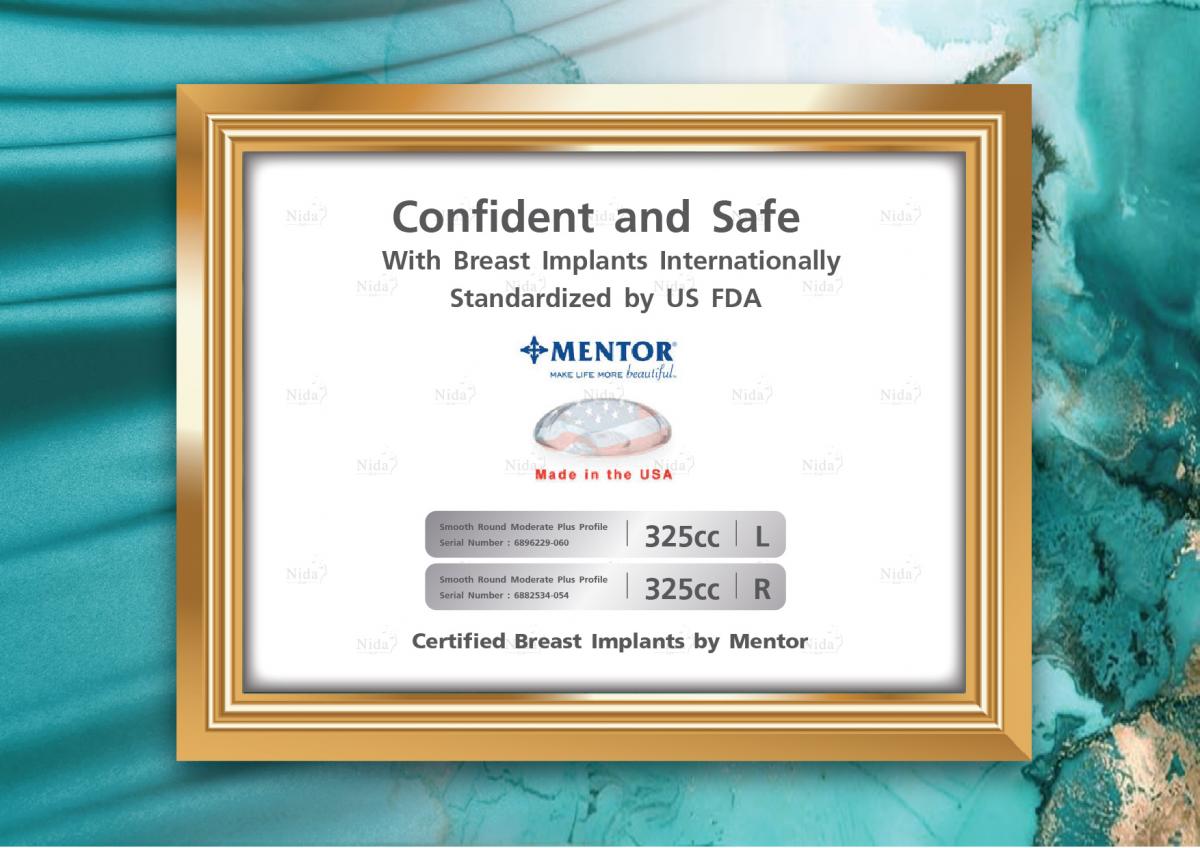 Surgery Package
Implants
Hospital accommodations 
OR and recovery room charges
Medical equipment and supplies
Preoperative routine lab test
Pre op medicines, anesthesia, medical gas
Professional fees (surgeons, anesthesiologist, nurses)
Post op care
Transportation (hotel-hospital-hotel)
Mobile SIM card