If we are to mention about a girl who possesses a perfect pretty face which looks the youngest in this moment, we are definitely talking about "Lisa form Black Pink" or Lalisa Manoban, who has been ranked as the No.1 of the most beautiful woman in the world in "100 Most Beautiful Faces 2020" with her young and plump face with baby fat, but still has a v-shaped face, especially the shape of her raised mouth corners that smile all the time, making her face a total of "Beauty Idol" for women of all ages.  
Let's find out a special technique which combines 2 best technologies from 2 continents that will transform and awaken the youthfulness in you.  "Reverse the age  to achieve the forever youth", naturally in the style of "Lisa Black Pink" at Nida Esth' Medical Centre.
With advances in medical technology for beauty today, causing the creation of a variety of dimensions of beauty, awakening youthfulness and reversing the age of for more than 10 years and with the experience and expertise of Thai dermatologists.  It is incomparable in any country in the world with both of these factors combine to create the Baby Lift : Inside-Out Lifting program, "V-shaped - Youthful - Rejuvenated Face" without relying on fillers to create the perfect face from the inside...to the outside with no surgery, no injections, no pain and naturally superior youthfulness.  See results immediately; no need to wait.
The program is developed by  Dr. Sunida Yuthayotin, a Medical Director of the Medical Centre for Aesthetic Medicine, Nida Esth' Medical Centre and an American Board of Aesthetics from the United States of America with over 22 years of experience in dermatology and laser technology. She is widely recognized internationally as the number one beauty specialist trusted by both Thai and international patients who travel from all over the world to receive treatments with Dr. Nida"
"Dr. Nida" has combined the benefits of two types of advanced laser technology together with a unique technique that is exclusive and can never be imitated which has a result of "V-shaped-Youthful-Rejuvenated face" which is 4D Outside Lifting, a special technique that digest laser energy into 4 dimensions to enhance youthfulness from the outer layer to the deeper layers of the skin.  
It is combined with Super Smooth 4D Liftin' TM energy to fill the skin with firmness from within the oral mucosa.  It can be considered as a revolution in the history of the beauty laser industry that can rejuvenate - reduce aging - restore firmness for the perfect face that no technology can compare.
It is also the first time that this technique has been developed. Baby Lift : Inside-Out Lifting is one of the popular treatment programs that "Dr. Nida" always recommends to her patients under the concept of "V-shaped - Youthful - Rejuvenated Face" without relying on filler injection to create the perfect face from the inside to the outside: no surgery, no injections, no pain and immediate results.
Do you see? To have a beautiful and youthful face forever in this modern world, it's not difficult at all but we should not let skin problems overtake our real age. So, we should choose to treat with medical technology that meets the US FDA standard, including choosing a medical centre and a doctor who has truly experienced in beauty. For over 22 years, Nida Esth' Medical Centre has created meticulously every beauty like a masterpiece of art in the hands of medical professionals along with continuous research and development of the organization. For this reason, more than 20,000 patients have told others about their beauty results.  Therefore, it can be said that "the determination, dedication, care, and seeking the best in return for the trust given by the patients" are the important factors that make "Dr. Nida" and Nida Esth' Medical Centre to be accepted internationally for more than 22 years until now.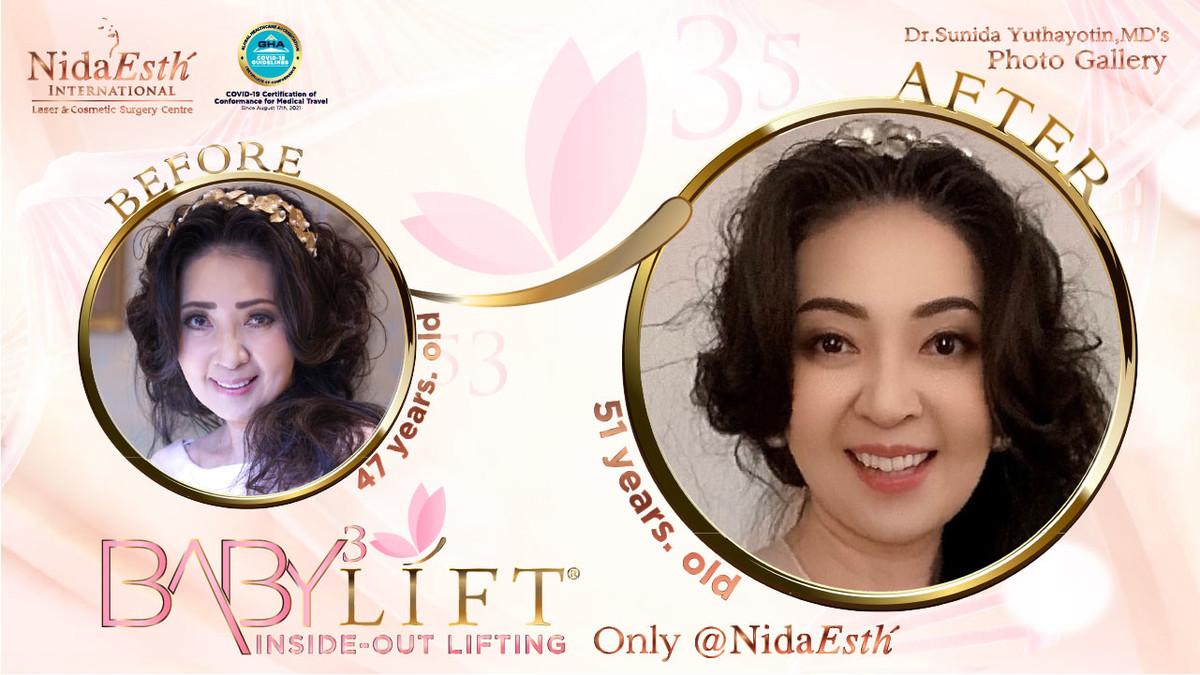 Website : www.nidaskincosmetic.com
Facebook Page : https://www.facebook.com/Nidaskin
LINE@ : @nida_esth
Email : [email protected]
Youtube : Nida Esth' Medical Center Channel
Contact number  : 02-252-2121 , 02-251-2552 , 081-010-2200
Location : Siam Square Soi 9  https://goo.gl/maps/MEUwqjkgxCkAKiCj8
Business hours : Tuesday-Saturday 09.00-18.30 / Sunday-Monday 09.00-17.00